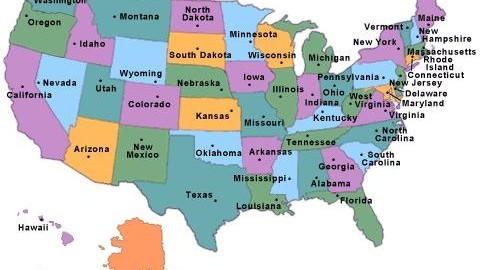 Cost of Long Term Care by State 2013
By Aaron Skloff, AIF, CFA, MBA
Genworth 2013 Cost of Care Survey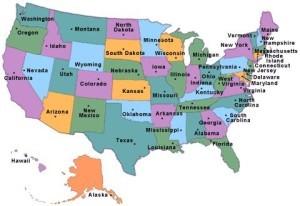 | | | | | | |
| --- | --- | --- | --- | --- | --- |
| | Home | Adult Day | Assisted | Nursing Home | Nursing Home |
| | Health Aide | Care | Living Facility | Semi-Private Room | Private Room |
| State | Hourly Rate | Daily Rate | Monthly Rate | Daily Rate | Daily Rate |
| Alabama |  $           16 |  $         25 |  $           2,600 |  $                      180 |  $              191 |
| Alaska |  $           25 |  $       113 |  $           6,000 |  $                      742 |  $              701 |
| Arizona |  $           20 |  $         75 |  $           3,350 |  $                      199 |  $              237 |
| Arkansas |  $           17 |  $         64 |  $           2,865 |  $                      150 |  $              165 |
| California |  $           23 |  $         77 |  $           3,710 |  $                      230 |  $              268 |
| Colorado |  $           22 |  $         62 |  $           3,520 |  $                      212 |  $              239 |
| Connecticut |  $           21 |  $         80 |  $           5,000 |  $                      387 |  $              416 |
| Delaware |  $           22 |  $         63 |  $           5,533 |  $                      274 |  $              294 |
| D.C. |  $           19 | N/A | N/A |  $                      250 |  $              288 |
| Florida |  $           19 |  $         60 |  $           3,000 |  $                      225 |  $              250 |
| Georgia |  $           18 |  $         62 |  $           2,703 |  $                      173 |  $              185 |
| Hawaii |  $           25 |  $         70 |  $           4,200 |  $                      350 |  $              398 |
| Idaho |  $           19 |  $         93 |  $           3,198 |  $                      224 |  $              237 |
| Illinois |  $           21 |  $         69 |  $           4,050 |  $                      170 |  $              193 |
| Indiana |  $           19 |  $         70 |  $           3,705 |  $                      195 |  $              235 |
| Iowa |  $           21 |  $         52 |  $           3,150 |  $                      161 |  $              176 |
| Kansas |  $           19 |  $         65 |  $           3,490 |  $                      155 |  $              172 |
| Kentucky |  $           18 |  $         58 |  $           2,720 |  $                      201 |  $              223 |
| Louisiana |  $           15 |  $         57 |  $           3,150 |  $                      150 |  $              160 |
| Maine |  $           22 |  $         98 |  $           4,500 |  $                      270 |  $              285 |
| Maryland |  $           20 |  $         77 |  $           3,400 |  $                      250 |  $              274 |
| Massachusetts |  $           24 |  $         60 |  $           4,950 |  $                      345 |  $              365 |
| Michigan |  $           20 |  $         67 |  $           2,850 |  $                      230 |  $              255 |
| Minnesota |  $           25 |  $         66 |  $           3,350 |  $                      198 |  $              219 |
| Mississippi |  $           17 |  $         63 |  $           3,000 |  $                      200 |  $              208 |
| Missouri |  $           18 |  $         70 |  $           2,288 |  $                      145 |  $              159 |
| Montana |  $           21 |  $         80 |  $           3,600 |  $                      198 |  $              218 |
| Nebraska |  $           22 |  $         48 |  $           3,360 |  $                      178 |  $              198 |
| Nevada |  $           21 |  $         65 |  $           2,850 |  $                      222 |  $              245 |
| New Hampshire |  $           24 |  $         65 |  $           3,589 |  $                      295 |  $              330 |
| New Jersey |  $           21 |  $         80 |  $           5,994 |  $                      300 |  $              332 |
| New Mexico |  $           20 |  $         75 |  $           3,518 |  $                      195 |  $              219 |
| New York |  $           22 |  $         75 |  $           3,950 |  $                      332 |  $              344 |
| North Carolina |  $           18 |  $         50 |  $           2,900 |  $                      197 |  $              212 |
| North Dakota |  $           23 |  $         63 |  $           2,852 |  $                      240 |  $              250 |
| Ohio |  $           19 |  $         52 |  $           3,920 |  $                      204 |  $              225 |
| Oklahoma |  $           19 |  $         60 |  $           2,967 |  $                      135 |  $              152 |
| Oregon |  $           21 |  $         94 |  $           4,023 |  $                      232 |  $              254 |
| Pennsylvania |  $           20 |  $         56 |  $           3,175 |  $                      259 |  $              286 |
| Rhode Island |  $           23 |  $         65 |  $           4,148 |  $                      280 |  $              305 |
| South Carolina |  $           18 |  $         50 |  $           3,000 |  $                      189 |  $              201 |
| South Dakota |  $           20 |  $         41 |  $           3,036 |  $                      191 |  $              203 |
| Tennessee |  $           17 |  $         59 |  $           3,525 |  $                      183 |  $              196 |
| Texas |  $           18 |  $         33 |  $           3,336 |  $                      130 |  $              168 |
| Utah |  $           21 |  $         56 |  $           2,888 |  $                      165 |  $              198 |
| Vermont |  $           24 |  $       129 |  $           3,750 |  $                      266 |  $              295 |
| Virginia |  $           18 |  $         60 |  $           3,775 |  $                      204 |  $              230 |
| Washington |  $           22 |  $         68 |  $           4,250 |  $                      243 |  $              263 |
| West Virginia |  $           16 |  $         70 |  $           3,250 |  $                      236 |  $              251 |
| Wisconsin |  $           22 |  $         62 |  $           3,538 |  $                      238 |  $              265 |
| Wyoming |  $           20 |  $         80 |  $           3,300 |  $                      199 |  $              208 |
| | | | | | |
| U.S. |  $           19 |  $         65 |  $           3,450 |  $                      207 |  $              230 |
The most comprehensive study of its kind, Genworth's 2013 Cost of Care Survey (conducted by CareScout®) covers nearly 15,000 long term care providers across all 50 states and the District of Columbia, in 437 regions nationwide. This unique level of detail can help consumers plan for long term care costs in their preferred location and care setting.
Home Health Aide Services (Licensed)
Provides "hands-on" personal care, but not medical care, in the home, with activities such as bathing, dressing and transferring. This is the rate charged by a non-Medicare certified, licensed agency. Personal and home health aides help those who are elderly, disabled or ill live in their own homes instead of residential care facilities or nursing homes. Home health aides may offer services to people who need more extensive personal care than family or friends are able, or have the time or resources, to provide.
Adult Day Health Care
Provides social and other related support services in a community-based, protective setting during any part of a day, but less than 24-hour care. Adult Day Health Care centers can offer a much needed break to caregivers. This type of care provides service at community-based centers for adults who need assistance or supervision during the day but who do not need around-the-clock care. There are a variety of "models" of Adult Day Health Care programs. All models are intended to offer socialization, supervision and structured activities designed for the individual needs of the participants at the center. Some programs also may provide personal care, transportation, medication management, health-related services, intergenerational programming, social services, meals, personal assistance and therapeutic activities.
Assisted Living Facility (One Bedroom – Single Occupancy)
Provides "hands-on" personal care as well as medical care for those who are not able to live by themselves, but do not require constant care provided by a nursing home. Assisted living facilities (referred to as Residential Care Facilities in California) are living arrangements that provide personal care and health services for people who may need assistance with ADLs, but who wish to live as independently as possible and do not need the level of care provided by a nursing home. It's important to note that assisted living is not an alternative to a nursing home, but an intermediate level of long term care.
Nursing Home (Semi-Private Room)
Provides skilled nursing care 24 hours a day. Nursing homes are for those people who may need a higher level of supervision and care than what is provided in an assisted living facility. They offer residents personal care assistance, room and board, supervision, medication, therapies and rehabilitation, as well as skilled nursing care 24 hours a day.
Nursing Home (Private Room)
Provides skilled nursing care 24 hours a day.
https://skloff.com/wp-content/uploads/2014/02/us-map-1.jpg
330
480
f2819644
https://skloff.com/wp-content/uploads/2013/09/sfg-1.png
f2819644
2014-01-01 12:00:16
2015-05-05 16:16:20
Cost of Long Term Care by State 2013