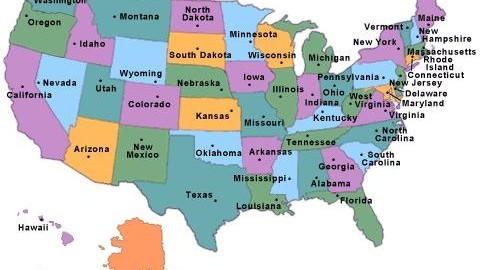 Cost of Long Term Care by State 2019
| | | | | | |
| --- | --- | --- | --- | --- | --- |
| | Home | Adult Day | Assisted | Nursing Home | Nursing Home |
| | Health Aide | Health Care | Living Facility | Semi-Private Room | Private Room |
| State | Monthly | Monthly | Monthly | Monthly | Monthly |
| Alabama |  $        3,432 |  $           758 |  $            3,250 |  $          6,388 |  $           6,783 |
| Alaska |  $         5,716 |  $        3,328 |  $          6,000 |  $         30,219 |  $         30,219 |
| Arizona |  $        4,767 |  $       2,102 |  $          3,750 |  $           6,433 |  $           8,136 |
| Arkansas |  $        3,623 |  $        1,948 |  $           3,175 |  $           5,505 |  $           6,083 |
| California |  $         5,339 |  $        1,668 |  $          4,500 |  $           8,760 |  $           10,646 |
| Colorado |  $         4.957 |  $        1,625 |  $          4,095 |  $           8,197 |  $          9,429 |
| Connecticut |  $        4,576 |  $        1,842 |  $          4,880 |  $         12,699 |  $         13,916 |
| Delaware |  $        4,671 |  $        1,797 |  $           6,035 |  $         10,897 |  $         11,361 |
| D.C. |  $        4,767 |  $        1,961 | $            5,100 |  $          11,467 |  $          12,440 |
| Florida |  $        4,195 |  $       1,463 |  $          3,500 |  $           8,547 |  $          9,387 |
| Georgia |  $        3,909 |  $       1,435 |  $           3,335 |  $           6,684 |  $           7,148 |
| Hawaii |  $         5,220 |  $        1,582 |  $           4,375 |  $          11,650 |  $         13,368 |
| Idaho |  $        4,290 |  $       2,275 |  $           3,728 |  $           7,924 |  $          8,562 |
| Illinois |  $        4,576 |  $        1,584 |  $          4,170 |  $           5,931 |  $           6,844 |
| Indiana |  $        4,385 |  $        1,842 |  $           4,100 |  $           7,021 |  $           8,517 |
| Iowa |  $         4,767 |  $        1,376 |  $           4,078 |  $          6,342 |  $           6,878 |
| Kansas |  $        4,195 |  $        1,733 |  $           4,473 |  $           5,627 |  $           6,175 |
| Kentucky |  $        3,813 |  $        1,560 |  $           3,497 |  $          6,905 |  $           7,604 |
| Louisiana |  $        3,241 |  $        1,625 |  $           3,650 |  $          5,435 |  $           5,676 |
| Maine |  $        5,117 |  $       2,513 |  $          5,169 |  $          10,038 |  $        10,494 |
| Maryland |  $        4,576 |  $        1,775 |  $           4,300 |  $           9,673 |  $         10,007 |
| Massachusetts |  $         5,243 |  $       1,473 |  $           5,640 |  $         12,473 |  $          13,212 |
| Michigan |  $        4,481 |  $        1,685 |  $          4,000 |  $           8,373 |  $          9,292 |
| Minnesota |  $         5,815 |  $        1,820 |  $          3,800 |  $          10,076 |  $         11,037 |
| Mississippi |  $        3,527 |  $        1,398 |  $           3,524 |  $           6,844 |  $           7,087 |
| Missouri |  $        4,195 |  $        1,777 |  $           2,881 |  $           5,061 |  $           5,688 |
| Montana |  $        4,576 |  $       2,167 |  $           3,820 |  $          7,459 |  $           7,717 |
| | Home | Adult Day | Assisted | Nursing Home | Nursing Home |
| | Health Aide | Health Care | Living Facility | Semi-Private Room | Private Room |
| State | Monthly | Monthly | Monthly | Monthly | Monthly |
| Nebraska |  $         4,957 |  $        1,820 |  $           3,819 |  $           7,003 |  $           7,695 |
| Nevada |  $         4,290 |  $        1,733 |  $          3,400 |  $          7,604 |  $           9,277 |
| New Hampshire |  $        5,386 |  $        1,777 |  $           7,021 |  $          9,581 |  $          10,494 |
| New Jersey |  $        4,767 |  $        1,842 |  $           6,400 |  $        10,646 |  $         11,650 |
| New Mexico |  $        4,290 |  $        2,933 |  $          4,100 |  $           7,330 |  $           8,060 |
| New York |  $        4,957 |  $        1,842 |  $          4,630 |  $         11,613 |  $         12,349 |
| North Carolina |  $         3,813 |  $        1,170 |  $           4,000 |  $          7,057 |  $            7,665 |
| North Dakota |  $         5,331 |  $        2,059 |  $           3,405 |  $         11,875 |  $         11,986 |
| Ohio |  $        4,385 |  $        1,376 |  $           4,339 |  $           6,996 |  $           7,817 |
| Oklahoma |  $        4,242 |  $       1,387 |  $          3,518 |  $           4,867 |  $           5,627 |
| Oregon |  $         5,339 |  $        2,167 |  $          4,499 |  $           9,551 |  $          10,342 |
| Pennsylvania |  $         4,481 |  $       1,457 |  $           3,913 |  $           9,733 |  $          10,403 |
| Rhode Island |  $         5,148 |  $        1,771 |  $           5,199 |  $          9,961 |  $          10,646 |
| South Carolina |  $        4,000 |  $       1,343 |  $          3,500 |  $           7,123 |  $           7,604 |
| South Dakota |  $         5,339 |  $        2,427 |  $          3,500 |  $           6,844 |  $           7,194 |
| Tennessee |  $         3,892 |  $       1,495 |  $          3,900 |  $          6,836 |  $          7,300 |
| Texas |  $         4,004 |  $           704 |  $          3,750 |  $           4,867 |  $           6,418 |
| Utah |  $        4,576 |  $       1,560 |  $           3,400 |  $          6,403 |  $           7,604 |
| Vermont |  $         5,196 |  $       3,033 |  $          5,338 |  $          10,722 |  $          11,285 |
| Virginia |  $        4,382 |  $         1,603 |  $          4,800 |  $           7,350 |  $           8,213 |
| Washington |  $        5,815 |  $       1,441 |  $          5,500 |  $          9,112 |  $           9,931 |
| West Virginia |  $         3,432 |  $       1,083 |  $           3,750 |  $         10,707 |  $         11,528 |
| Wisconsin |  $         4,767 |  $       1,560 |  $          4,350 |  $           8,273 |  $           9,399 |
| Wyoming |  $         5,384 |  $        1,560 |  $           3,780 |  $           7,346 |  $          8,030 |
| | | | | | |
| U.S. |  $        4,385 |  $        1,625 |  $          4,051 |  $           7,513 |  $           8,517 |
| | | | | | |
The 2019 survey, conducted by CareScout in June 2019, is one of the most comprehensive studies of its kind, contacted 53,901 long term care providers nationwide to complete 15,178 surveys for nursing homes, assisted living facilities, adult day health facilities and home care providers. The survey includes 441 regions based on the Metropolitan Statistical Areas, defined by the Office of Management and Budget, and include approximately 85 percent of the U.S. population.
Home Care
A home health aide will typically help with bathing, dressing, transferring and toileting, but not with catheters or injections. Most of these agencies also provide homemaker services that typically include assistance with shopping, finances, cooking, errands and transportation. Homemaker services may also be employed for the purpose of providing companionship.
Adult Day Health Care (ADH)

ADH is designed to meet the needs of adults who are functionally and/or severely cognitively impaired. Programs are intended to be structured and comprehensive, and to take place in a protective setting that promotes well-being through a variety of health, social and other support services. These services are intended to help enable individuals live more independently in the community. These services may also be used to provide relief for family caregivers.
Assisted Living Facility (ALF)
Currently, there are more than 70 different names or designations for facilities licensed as some form of an assisted care facility. Generally, fewer than 40 percent of these care facilities use the term "assisted living facility" as a part of their formal name or licensure designation. For example, some facilities may be identified as "residential care facilities." Because of variations in licensing requirements by state, both small group homes and large multi-service facilities qualified as assisted living facilities for the purposes of this study.
Nursing Home (NH)
Surveyors collected the daily rates for private rooms (single occupancy) and semi-private rooms (double occupancy) in Medicare-certified nursing facilities. Medicare-certified nursing homes represent more than 90 percent of all nursing homes in the U.S. The daily room charge usually includes services beyond rent, such as three meals a day, laundry, sundries, basic nurse supervision and generic non-prescription pharmaceuticals.
Click Here for Your Long Term Care Insurance Quotes

Click here to add your own text
https://skloff.com/wp-content/uploads/2014/02/us-map-1.jpg
330
480
f2819644
https://skloff.com/wp-content/uploads/2013/09/sfg-1.png
f2819644
2019-10-19 12:00:03
2019-10-19 12:19:11
Cost of Long Term Care by State 2019